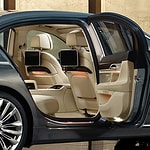 If you're in search of a reliable luxury sedan, you won't go wrong with the various models of the BMW 7 series. This popular sedan line is currently available at our convenient showroom here in Charlotte, NC, so come by and take one of these top-of-the-line vehicles out for a road test today.
The 7 series represents the best of what BMW has to offer, and you're sure to find that the lineup is equipped with all of your favorite interior and exterior amenities. Up front, the sculpted grille will garner just the right amount of attention while the sleek, aerodynamic profile cuts down on wind resistance and looks great while doing so.
Your 7 series vehicle can be outfitted with a 12-cylinder engine that's capable of supplying enough power to tackle any road. The cabin is filled with an array of high-tech features that includes cutting-edge voice-activated controls.