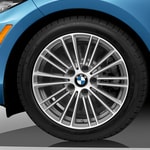 When it comes to a luxury coupe or convertible, the BMW 2 Series should be at the top of the list. You will find that this is a popular luxury vehicle because of the number of features that are included in the design. It is comfortable and fun to drive as well.
With the BMW 2 Series, you will get a complete BMW navigation system. This will get you where you need to be going in less time and with far fewer headaches. You can avoid traffic ties ups thanks to the real-time traffic updates that are sent directly to the system.
You will also get wireless charging and WiFi capabilities with the BMW 2 Series. You will not have to worry about your compatible mobile devices losing their charge while driving around Charlotte, NC. The WiFi feature will keep you connected as well. Take a coupe or convertible on a test drive when you visit Hendrick BMW Northlake.