Pre-Order The Electric 2022 BMW i4 & iX

Our Next Generation Electric Vehicles. Learn more and Pre-Order today!
Embrace the Future of Luxury Driving with the BMW i4 and iX at Hendrick BMW Northlake!
The BMW lineup is well-known for leading the charge when it comes to driver accommodation. An efficient and eco-friendly model is the way to drive around Charlotte, and what better way to ensure you're ready than with upcoming BMW all-electric vehicles like the BMW iX and BMW i4!
Why Electric Vehicles?
While gas-powered vehicles have long dominated the road, electrified vehicles are making a push as the preferred option for many drivers, and for good reason! Hybrid and all-electric vehicles, like the BMW I4 and BMW iX, are designed to be more efficient, helping you save money with less frequent trips to the gas pump. Electric vehicles are often easy to charge, with numerous charging stations available across the country, and the ability to set up a charging station at home makes it easy to charge overnight before your next drive to work. All-electric vehicles lack a normal gas-powered engine, freeing up space for more internal storage for you to take advantage of! There are so many reasons that the BMW iX and i4 are excellent options for your morning commute or some weekend enjoyment!
Reserve the BMW i4 and BMW iX today at Hendrick BMW Northlake and be the first to test drive one when they come in!
---
New BMW i4
The upcoming BMW iX is the first of its kind, an all-electric SAV that combines premium power with a forward-thinking design and impressive technology for a truly immersive experience. With a range of about 300 miles and up to 500 horsepower, the iX is a powerhouse that puts your performance first. The elegant design improves the BMW look with aerodynamic style and convenience. The interior enjoys a range of customizable comfort options and smart features like the Panoramic Moonroof, Shy Tech features that include acoustic fabric, radiant heat in the dash and door panels, and haptic controls, and the Intelligent Personal Assistant improve your drive every day!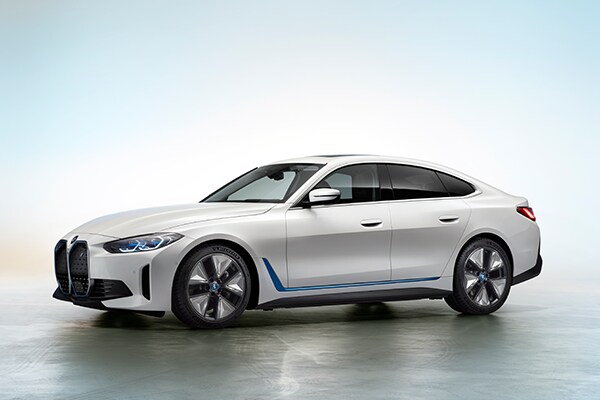 New BMW iX
The fully electric BMW i4 combines powerful engine acceleration with spacious seating for five for an experience like no other sedan on the road. The Gran Coupe configuration enjoys a range of up to 300 miles with a maximum horsepower of 335. With a charge time of fewer than 8 hours, you'll be back on the road after a good night's sleep. From an aerodynamic design to superior handling thanks to near-perfect weight distribution and low center of gravity, the BMW i4 is at home on the road. Gorgeous details inside, along with curved displays and comfy seating, make the BMW i4 an all-electric sedan perfect for every driver!