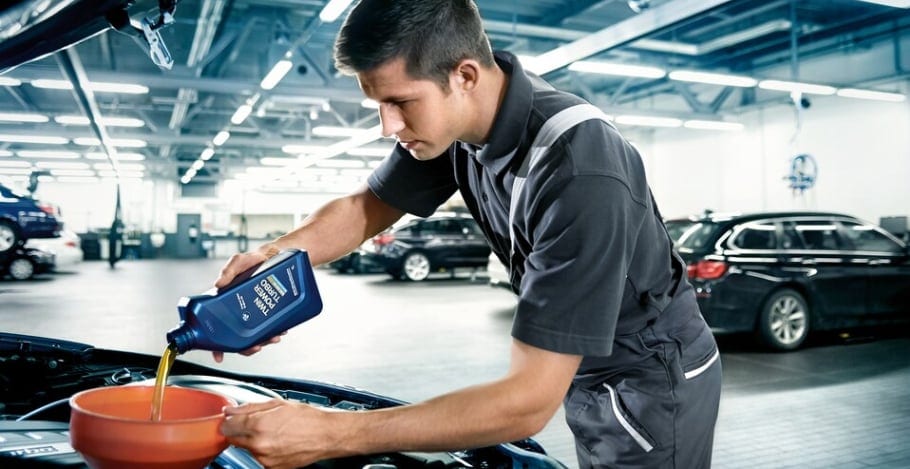 BMW Oil Change In Northlake
Keep your BMW performing at its best and protect your investment with a specialized BMW oil change service from Hendrick BMW Northlake. Our certified technicians are well-versed in the precise industry standards set by modern automakers, meaning you can rest assured your vehicle is receiving only the highest quality care that meets specific requirements to help extend its lifetime.Don't settle for second best and
schedule a servicing
today in Northlake, NC. Trust our team of experts who know what it takes to keep luxury vehicles running their absolute best.
Get Your Next Oil Change in Northlake, NC
Is it hard finding BMW oil change services in the area? When you require servicing of your new or
used BMW car
, truck, SAV, or SUV, book an appointment with Hendrick BMW Northlake. You can find our Service Center at
10720 Northlake Auto Plaza Blvd
, Charlotte, NC 28269 and it is open Monday through Saturday. Our service team is eager to help you!If you drive consistently under extraordinary conditions or off-road frequently, then we suggest getting your servicing earlier than later. The major benefits of staying up to date with your
BMW oil change
include:
 
Safeguarding that your engine is free of pollutants.
 
Safeguarding that your engine does not overheat.
 
Double check engine parts stay lubricated.
 
Ensure that your engine is running at maximum power.
What are the prices of a BMW oil change?
$99.95
  - All BMW models with 4- and 6-cylinder engines are included in the Value Service Program.
$129.95
- All 8-cylinder BMWs included in the Value Service Program.
$179.95 -
All models, such as BMW M and diesel, are included in the Value Service Program.
Disclaimer: BMW Northlake Oil service uses premium synthetic BMW oil. Oil viscosities may differ by model. Prices include parts, labor, and oil. Topping off diesel emission fluid is not incorporated. Applies specifically to certain BMW models covered in the Value Service Program. Shop, supplies, taxes, and addition.
When Do I Need to Change My BMW's Oil?
This question revolves around vehicle age, driving conditions, oil type, and the time between oil changes.
The standard 3,000 miles is outdated.
Modern lubricants in most engines have recommended oil change intervals between 5,000 to 7,500 miles.If your BMW's engine demands full-synthetic motor oil, then it can drive up to 15,000 miles between oil changes. We cannot conclude engine oil condition by color, so follow the factory
maintenance schedule
for oil changes.
Types of Oil Changes From Oil Change Services In Northlake
Determining the right oil is not always straightforward. The appropriate oil for your make and model of BMW is required to satisfy performance standards set by the ACEA,
API
, and/or ILSAC, as well as adhere to any unique stipulations established by the engine manufacturer or automaker. It also has to have the correct SAE viscosity grade.BMW details these conditions in your vehicle owner's manual, and
our auto repair mechanics
can provide you with information on your vehicle's approved oil specifications.
---
| | | | |
| --- | --- | --- | --- |
| Conventional | High Mileage | Synthetic Blend Oil | Full Synthetic |
| Efficient protection | Uniquely designed for engines over 75,000 miles | Higher quality protection | Best protection |
| Efficient performance | Helps restore worn and leaky seals | Higher quality performance | Best performance |
| Efficient sludge protection | Helps replenish lost compression | Higher quality cleaning | Better cleaning |
| | Helps cut down on oil consumption | Higher quality fuel economy | Best fuel economy |
| | | Safeguards in temperature extremes | Safeguards in temperature extremes |
---
Conventional Oil: Many drivers still choose the less expensive conventional motor oil, especially when they're not driving under severe conditions, such as towing heavy loads, pot-hole filled roads, wet roads, lots of short trips, and driving in extreme cold or hot weather.
High Mileage Oil:

Uniquely designed for vehicles that have clocked over 75,000 miles. It supports engine longevity, mitigates oil leaks, and helps in reducing oil burn-off.
Synthetic Blend Oil: This blend between conventional and synthetic oils to better protect and increase performance compared to conventional oil can. This is especially true in extreme driving conditions, but not as efficient as a full synthetic oil.
Synthetic Oil: Commonly referred to as "Full Synthetic Motor Oil". This motor oil is formulated especially to offer the highest levels of protection and performance. There is a growing number of vehicle manufacturers that require it today - See if yours is one of them. 
The Benefits Of Getting Your Oil Change At Hendrick BMW Northlake
With every oil change at Hendrick BMW Northlake,
our service technician
will reset the oil-life monitoring system. If you happen to change your own oil, then you can reset the system by adhering to the directions inside the BMW owner's manual.
Old Cars Vs New Cars | Recommended Oil Change Intervals
In most cases, modern cars require fewer trips to the mechanic for maintenance. This is because they typically use a multi-grade, full-synthetic, synthetic-blend, low-viscosity, or resource-conserving oils that reduce friction and boost fuel economy.
Oil Change Intervals For Older Cars
Older BMW's get oil change intervals based on mileage, and have two methods of preservation, one for cars driven in "ordinary" conditions and another for drivers operating in "extraordinary circumstances." The latter group involves driving your BMW under one or more of the following conditions:
 
Hauling heavy loads or towing a trailer
 
Primarily brief trips that are around 5 miles or fewer
 
Extremely cold, hot, or dirty climates
 
Constant stop-and-go driving (AKA City Driving)
If your BMW driving falls under one or more of these extraordinary circumstances. Then be sure you
get it serviced
under the suggested schedule intervals.
Oil Change Intervals For Newer Cars
Newer BMW's get outfitted with oil-life monitoring systems that routinely determine when the engine needs an oil change and notifies drivers with an alert found on the instrument panel.The old-school methods were based on mileage and time. The modern system is more advanced and utilizes actual vehicle operating conditions to diagnose when oil levels will weaken.In fact, your BMW's owner and maintenance manuals will omit "severe service" suggestions in many newer cars. This is because the oil-life monitoring processes systematically curtail the oil change interval
'check engine light
' alert when it encounters heavy-duty operating conditions.Now that modern engines are so efficient, oil changes are more seldomly required. Many BMW engines use less than a quart of oil between changes. T
his means most will only require as little as a quart for every 600 to 700 miles.
Preserving appropriate oil levels helps in sidestepping pricey car repairs; your new-car warranty will not cover wear and tear on your engine resulting from low oil levels. Most automakers recommend an oil change every 12 months if you're not driving many miles, it's still recommended even if the check engine lift has not lit up yet.
Full-Service Oil Change Near Northlake
Ensuring that your BMW's oil gets changed regularly is essential in maintaining your vehicle running for as long as possible. If you stay consistent with your BMW oil changes, your engine will remain lubricated, reducing the amount of heat produced by the engine. Older oil causes wear and tear on the engine and eventually stops it from properly functioning, which could reduce the longevity of your vehicle.
Hendrick Hendrick BMW Northlake
has professionally trained technicians ready to help you with your next BMW oil change, or any other BMW service you may need. You can
schedule your BMW oil change online
or for a quote on your next servicing, contact our
BMW Service Center
today!
BMW Oil Change FAQ
What Is The Cost Of An Oil Change For A BMW?
The cost of an oil change for a BMW can vary based on the type of oil your car needs, the year it was manufactured, and the BMW model. Give us a ring at (980) 365-8804 to learn more about BMW oil changes!
Which Type Of Oil Should I Be Putting In My BMW?
The type of oil appropriate for your BMW will depend upon its year, model, and trim. You can look up the answers in the BMW owner's manual, or you can
visit our BMW dealership
and our service technicians will be there to help.
Am I Able To Get An Oil Change For My BMW Anywhere?
You can have your BMW oil changed at any mechanic shop that provides oil change services. We strongly advise that you bring your BMW to our BMW Service Center in Northlake so you can be sure you are receiving the best care for your vehicle and the highest quality oil that is designed to work best with your BMW.
Connect with us today
to schedule a service appointment.
Are Oil Change Coupons Offered?
We typically have a sale going on for oil change servicing. When you come in for an appointment, please make sure you have sent a text or printed one of our
oil change coupons
.
Hours
Monday

9:00 AM - 7:00 PM

Tuesday

9:00 AM - 7:00 PM

Wednesday

9:00 AM - 7:00 PM

Thursday

9:00 AM - 7:00 PM

Friday

9:00 AM - 7:00 PM

Saturday

9:00 AM - 5:00 PM

Sunday

Closed