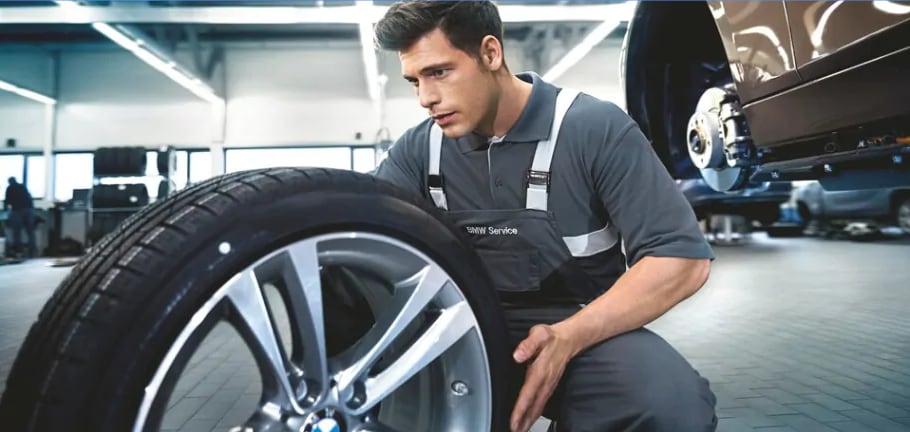 Getting the Right BMW Tires in Charlotte
Getting the right tires for your new or used BMW is essential to your car's longevity. At the same time, choosing which BMW tires you need can become tricky. Depending on what kind of BMW you drive and the climate you live in calls for different sizes and types of tires. That's where our team of service technicians is here to help you. Our professional technicians at our BMW service department will help you every step of the way. We will make getting your new BMW tires as easy as getting an oil change!
When is it Time to Change Your BMW Tires?
It is essential that you recognize some of the signs that your BMW tires need to be replaced. A couple of signals would be if there are cracks on them or the treads on your tires are worn down, which can make driving dangerous in inclement weather. Get a second opinion from trusted sources like our BMW dealership in Charlotte. We'll help you get what you need for a great bargain!
Get BMW Tires at Hendrick BMW Northlake
If you need to get new BMW tires, there is no better place than our BMW Service Center in Charlotte. Unlike regular tire shops, our team of professional technicians is thoroughly trained to help you with your BMW, which guarantees that you will get the exact tire you need for your make and model. Contact our BMW Dealership in Charlotte for any questions you might have. Be sure to ask about out our special deals on tire services to save money while getting what you need. We also know that having a running car is very important in our daily lives. So, if money is tight, we can even help you out with service financing. We look forward to working with you and making your life easier!
Frequently Asked Questions About BMW Tires
Do BMWs Have Spare Tires?
No, BMWs no longer come with spare tires. This is done to lower the overall weight of your BMW. Some models will come with BMW Mobility Kits instead of a spare tire. Most of our BMW models will come equipped with run-flat tires, which are also known as zero-pressure tires. These tires give you the peace of mind that you can make it to our BMW Service Center in Charlotte without even needing to change your tire on the side of the road!
How Much Are BMW Tires?
The pricing for our BMW tires will vary depending on the model and trim you own. Any questions you have about your BMW tires can be answered by contacting our BMW Tire Center.
How Long Do BMW Tires Last?
As long as you keep up with proper routine tire maintenance at our BMW Tire Center, such as tire rotation and alignment, your BMW tires can last anywhere up to 50,000 Miles. For most drivers, this can be up to 2-5 years, depending on your driving style, the type of weather, and other factors. Visit our BMW dealership today for more information on BMW tires!
How Much Air Do I Put In My BMW Tires?
Most BMWs will require your tires to be 32 pounds per square inch. You can check what your specific model needs by looking at the sticker inside your driver's door. You may also check the owner's manual or contact us with any questions you may have.
Hours
Monday

9:00 AM - 7:00 PM

Tuesday

9:00 AM - 7:00 PM

Wednesday

9:00 AM - 7:00 PM

Thursday

9:00 AM - 7:00 PM

Friday

9:00 AM - 7:00 PM

Saturday

9:00 AM - 5:00 PM

Sunday

Closed