Hendrick BMW Northlake Tire Center in Charlotte, NC

Hendrick BMW & Hendrick BMW Northlake have teamed up to give you an all-inclusive tire care center. This means that:
we can not only service your cars in Charlotte,

but also provide great deals and options on tires.

With four warehouses in the Charlotte & Lake Norman area at our disposal, if we don't have the exact tire you need, we will be able to get it within 12-24 hours during normal working hours.
As always, all tire repair work performed on your vehicle will be performed by professional factory trained & certified BMW technicians at our Charlotte BMW service center.
Tire Price Match Guarantee
Not only do we have the largest selection of tires for sale in Charlotte but our tires are very competitively priced. If you find a lower price on an identical available tire at a local retail competitor just bring a printout of the out-the-door pricing and Hendrick BMW / Hendrick BMW Northlake will match the lower price.
BMW Approved tires
There is only one thing that connects your car to the road and that is your tire. You are relying on a contact area that is just about the size of a post card. You can obtain comprehensive services for your tire needs through a single, Hendrick BMW / Hendrick BMW Northlake.
The development of a vehicle takes several years and is highly complex. Tires play a key role in this process because they are the only contact with the road. Comfort, performance and safety on every road surface is the ultimate goal. BMW-approved tires are visibly noticeable by the star marking. Only a tire developed, extensively tested, and then released by BMW receives the star marking. The tires are redeveloped for each BMW model series and are specifically adapted to the particular vehicle concept. BMW tires offer optimum performance and in all the crucial criteria such as sporting character, comfort, and rolling resistance, they are THE key player in the BMW efficient dynamics measures.
At your BMW Tire Center we have synchronized state-of-the-art technology with efficient work routines to achieve a fast service experience for customers purchasing new tires. Your wait time is brief and your comfort assured in our brand new customer-centric lounge.
Sheer driving pleasure through maximum quality, comfort and safety, that is the BMW promise and the reason a BMW is the ultimate driving machine.
About BMW Approved Tires
Learn more about BMW Approved Tires by viewing the images below.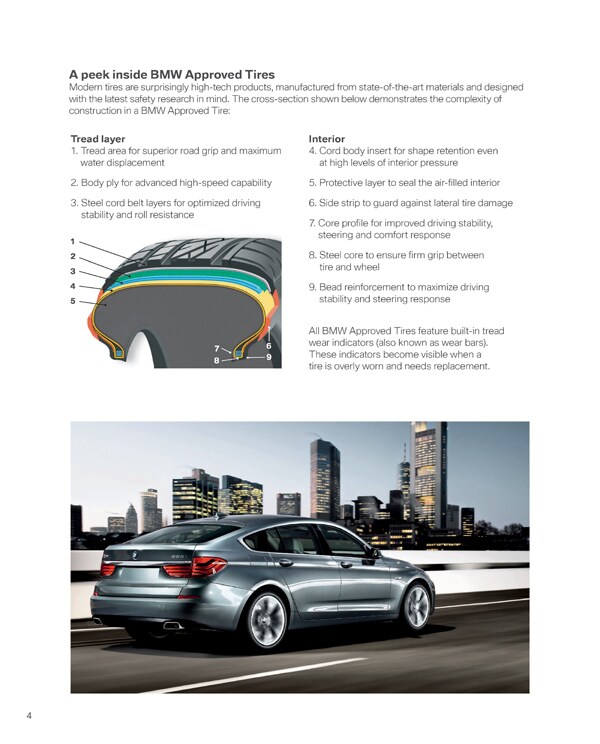 Frequently Asked Questions
The team at Hendrick BMW Northlake is dedicate to providing you with all the information you need to become educated about our BMW Tire Care Center in Charlotte, NC. If you have any additional questions, please fill out our contact form or give our service team a call at 866-796-3206.
What is considered a local retail competitor?
A local retail competitor  for retail store purchases is a retail store authorized by a vendor to sell new factory-sealed tires with a warranty that is located in the same market area (within a 50 mile radius) of Hendrick BMW / Hendrick BMW Northlake.
How do I show "proof" of price?
The best way to show proof of price is to bring in the competitor's current ad. We may call the competitor's retail store to verify the lower price and availability of the item.
Does Hendrick BMW Northlake match the prices of a Warehouse club?
Yes. As long as the Warehouse club is a Competitor, has an identical available tire and all other Price Match criteria are met.
Does Hendrick BMW Northlake match the price if it results in a price being below Hendrick BMW's cost on a tire?
Yes. As long as the price match requested is from a Competitor on an identical available tire and all other Price Match criteria are met.
Common Questions About BMW Approved Tires: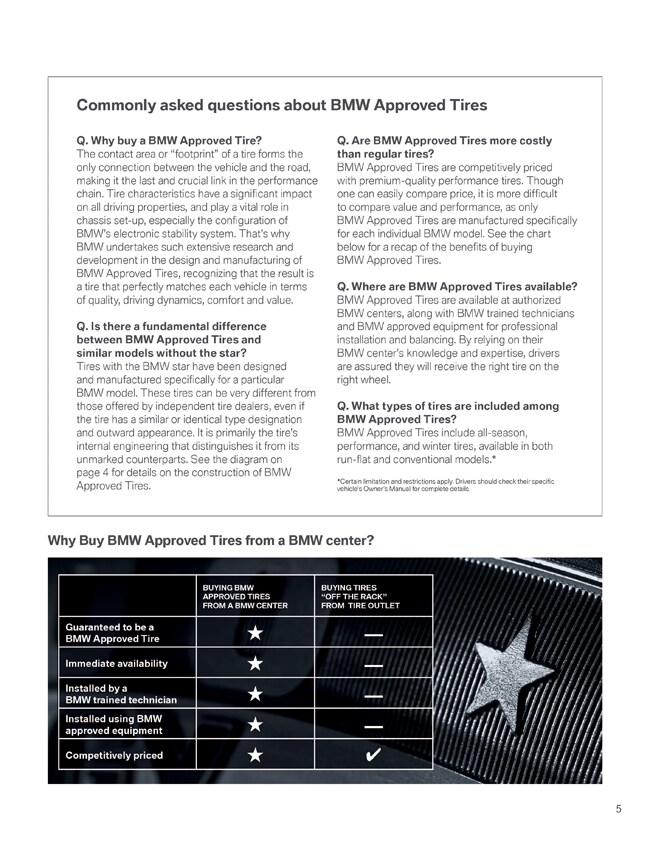 Common Questions About Tires: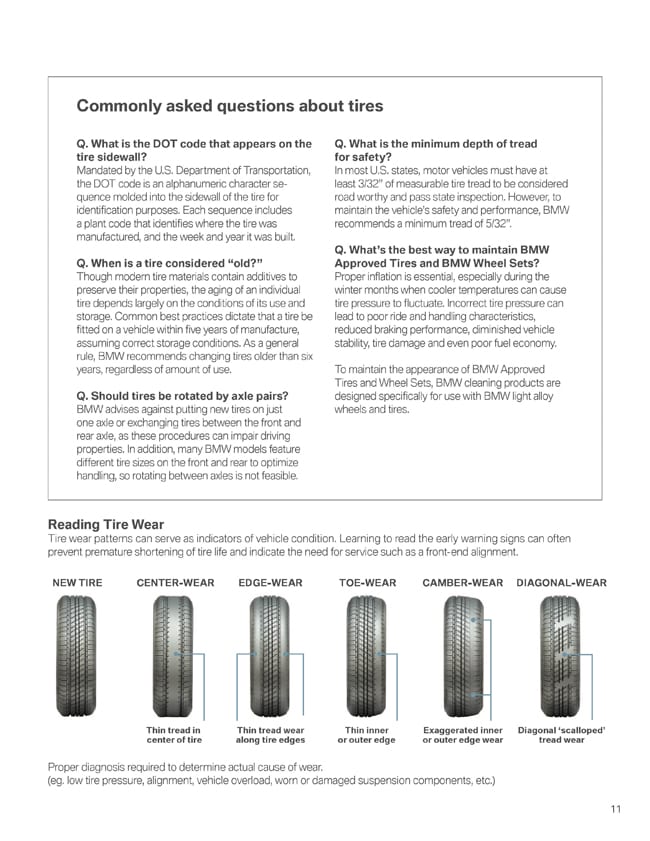 Information About BMW Approved Winter Tires: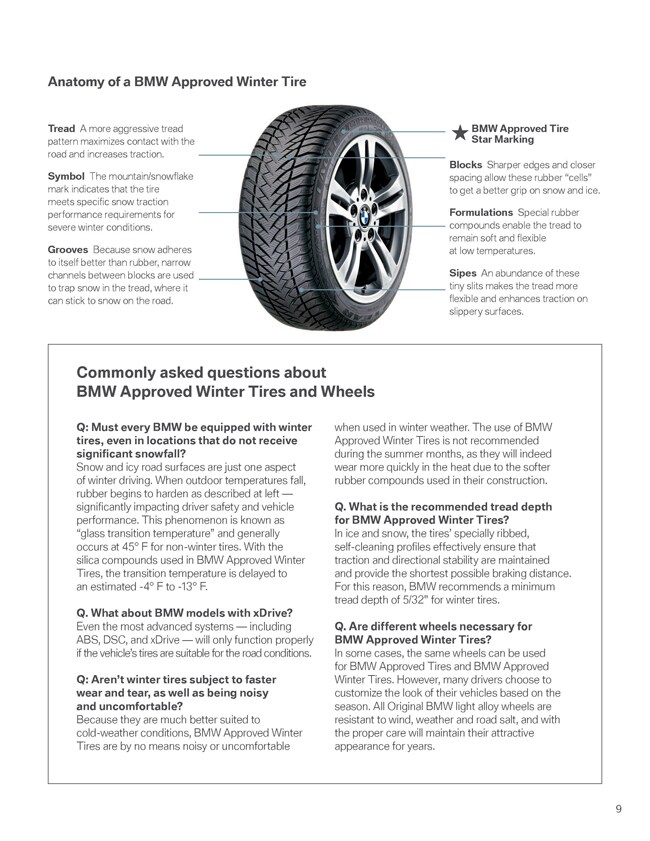 Additional Information About Tires